In case you hear rubbing from the disc brakes in the front or rear, you can follow these steps to resolve: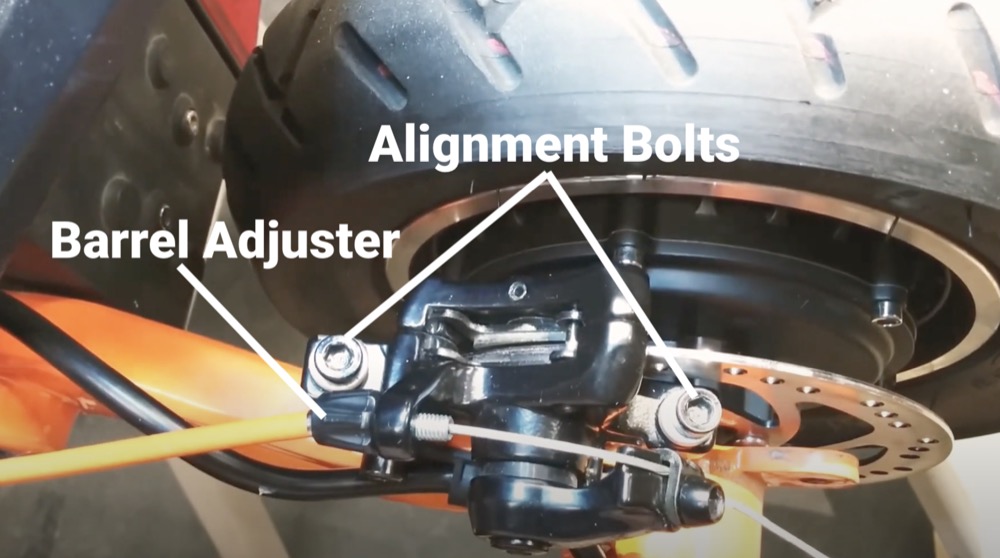 1. position the scooter on a box or chair so that the wheels spin freely.
2. position yourself so you can see the disc rotor moving between the pads.
3. ensure the rotor is true, i.e. does not wobble.
4. open the Alignment Bolts with the included tool. Do not remove the bolts, just loosen them so you can move the caliper left and right over the disc rotor.
5. position the caliper center over the disc rotor and spin the wheel. If the caliper is positioned correctly, there should be no more rub.
6. fasten the alignment bolts and torque to 6 N.m.
7. give the brake lever a few hard pulls before your next ride to ensure everything sits tight.
If you feel insufficient brake tension after the adjustment, you can add more tension by turning the Barrel Adjuster. Screwing the black dial outwards will put more pressure on the brake.