Please have a look at the below video for instructions on how to replace the bolt.
For further background, this is how the stem connection is designed: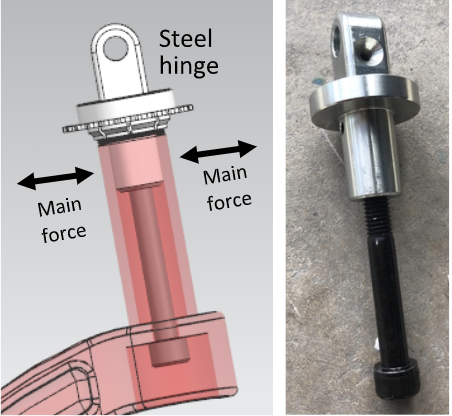 We have run some tests on our end and are recommending a few changes vs. the factory design for better durability, and most importantly, to counter vibration related loosening of the bolt which may put more load on the joint than intended by design.
Bolt: Currently installed: M10 80mm 12.9 grade / Upgrade: M10 85mm 8.8 grade
We chose to go with a longer bolt to increase the grip inside the hinge and to allow for adding a 2mm washer (see below). We chose to use 8.8 grade steel vs. the installed 12.9 grade. While 8.8 grade steel has a lower tensile strength, it is still sufficient for this application. The key advantage of the 8.8 bolt is less brittleness, i.e. the bolt will bend more before breaking. The replacement bolts are zinc plated for better corrosion resistance.
We also sourced the new bolts from a reputable European supplier who manufactures in Taiwan vs. the original Chinese bolts.
Washer: Currently installed: none / Upgrade: Nord lock washer
We want to avoid that the intense vibration while riding will lead to non-noticeable loosening of the bolt which will cause more stress on the materials. The pretty sophisticated washer we are providing is working well with the 8.8 bolt and will prevent loosening. Have a look at this video if you are interested to see how it works: https://youtu.be/IKwWu2w1gGk
We will provide the right tool (8mm Allen key) and blue thread locker with the replacement kit. Please follow the instructions carefully.
Let us know in case of any questions or concerns!