Your mantis not turning on can occur for a multitude of reasons. In this article we will be discussing the problem-solving steps our pro technicians apply to the customer scooters on a daily basis. These steps and tips will take into consideration the limitations of diagnosing at home and we will explain various concepts, tools and techniques to accommodate users of various skills levels. There may be some special tools required at more advanced steps.

Some questions you will want to ask yourself before diagnosis ( and to write to our customer service team if this article does not help) are as follows:

- What happened immediately before my scooter turned off?
- Has my scooter been in contact with water in the last 2 weeks ?
- Did I charge my scooter since the last time I used it ?
- Did my scooter suffer any significant shock or large bump lately ?
- Has my scooter been gradually performing worse before being unable to turn it on ( in any metric Range, Speed, Acceleration)?
- How long have I had my scooter?
- Has this ever happened before?

The Easy Checks
1. Check your display connections, as trivial as it may seem a bad electrical connection at your display could cause a no-start condition. Pull apart the quick connect leading to the display encircled in figure 1. Check for bent or missing pins, a fast reference for checking for slightly bent pins can be looking at the female signed of the connection and checking for score marks. This is also a good time to check for corrosion. Corrosion in electrical connectors can present itself as a white or light green residue. If this is present, take some electric contact cleaner or, more likely in your possession already, rubbing alcohol and flush the display connection. You are now ready to remake the display connection. Take care to line up the marks as shown in figure 2. If the scooter still does not turn on, continue on to the next steps.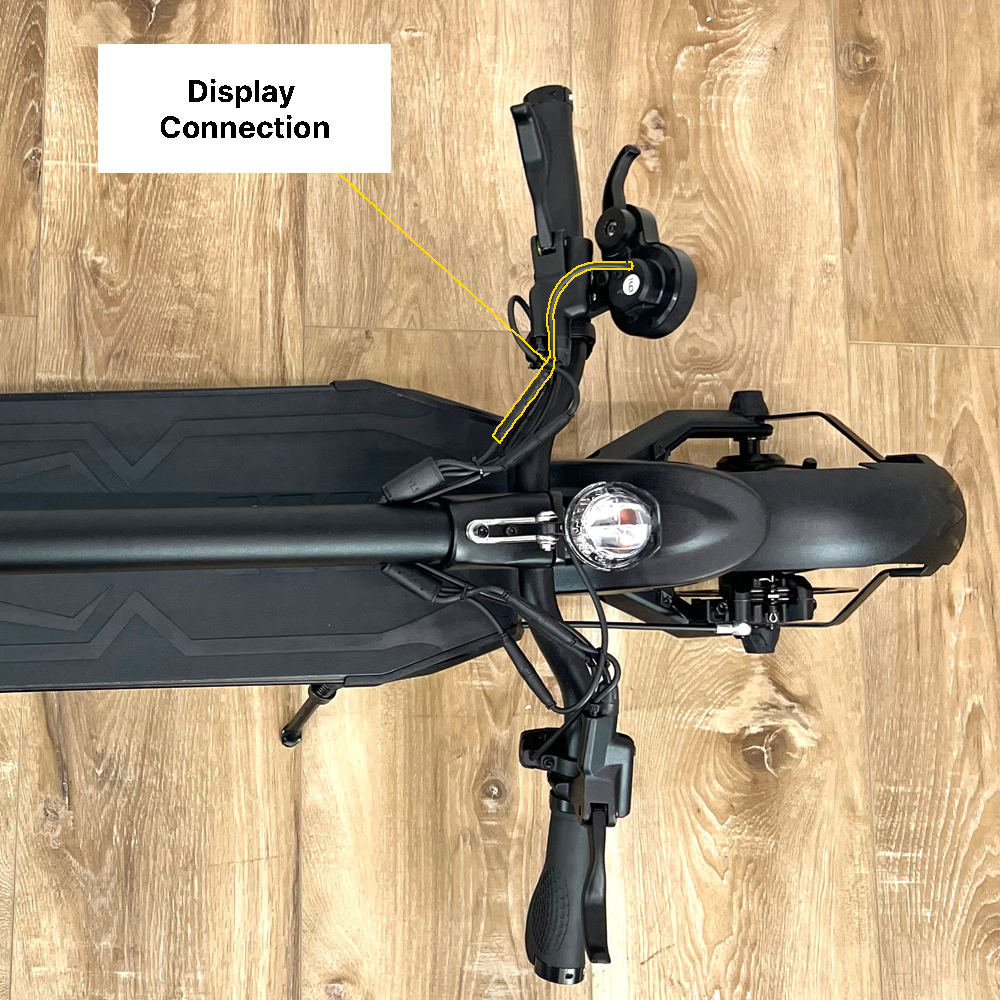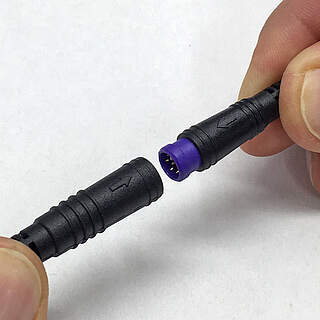 Fig.1 Fig. 2
2. Let's try to rule out the battery, this can be another major reason why the scooter will not turn on and is integral to its function.

Definitions
Short Circuit: A short circuit is an electrical circuit that allows current to travel along an unintended path with no or very little resistance.

Multimeter: A multimeter is a measuring instrument that can measure multiple electrical properties. A typical multimeter can measure voltage, resistance, and current

BMS: An electronic regulator that monitors and controls the charging and discharging of rechargeable batteries.

If the scooter has been stored for a period of 3-6 months without charge or further care you may simply need to need to leave it charging for some time as the battery may have depleted while sitting. This occurs because many electronics (from cellphones to cars) are not truly "off" when switched off, there is what is known as parasitic draw. Parasitic draw occurs from the various circuits which maintain the battery and sense inputs such as pressing the power button. If the charger is plugged into the scooter and the light remains green after having the charger plugged in for 24 hours, you may have a blown fuse (see further down in the article) or the battery pack has over discharged and become damaged. In this case it is highly likely a battery replacement may be required. If the charger flashes green/red right after being plugged in, then it is also likely highly likely a battery replacement may be required

If the scooter has been in active useor has been charged properly during storage it is less likely that the battery is the culprit but not impossible. One very telling test is plugging the charger into the wall and then plugging it into the scooter. If the scooter is now suddenly able to turn on, but when unplugged it shuts down again immediately, then it is likely the battery needs to be replaced. This is due to the battery no longer being able to generate sufficient voltage but the charger (which is outputting essentially full battery voltage, 67.2 volts in this case) raises the voltage to the point where the electronics can be functional again. If the scooter does not turn on after being plugged into the charger, and the charger light turns red indicating it is functioning and charging, then it is more likely the controller is faulty. If the charger light flashes green/red or is completely off when plugged into the scooter it could also mean faulty controllers which have a significant short circuit that caused the battery's BMS to enter into a completely blocked off state. The battery being faulty would not be completely ruled out in this scenario and further testing should be carried out with a multimeter/voltmeter and the battery unplugged from the controller and any other loads (see below).
3. Inspect the wire harness leading down into the deck. You will be looking for any cuts, tears, or large indentations. If these are present and there is a possible corresponding incident that may have happened before the scooter was no longer able to be turned on (an accident, it fell over, something fell on the scooter) then it is likely the main harness may have been damaged. Replacing the harness is time consuming but possible to do at home, although you may consider visiting on of our shops or a service partner for repair. Overall, this is in the minority of reasons why a scooter will usually not turn on. If you want to replace this at home, see some more information about that in the next section.


The Harder Checks:

Definitions
Continuity: Continuity is the presence of a complete path for current flow.


1. Check the controller and battery bay for water intrusion. If there is any standing water, especially under the battery once lifted, all the affected connections will need to be dried, examined, and cleaned with electrical contact cleaner. Past water intrusion can also represent itself as a large amount of dust or sand being present. This debris is the result of it being carried in with the water and then drying out. If it is evident that the controller(s) has/have also gotten wet, then it would best to replace them. Generally, when controllers short in this manner they have a pungent chemical/plastic burning smell. The battery is less likely to fail in this case; however it is not completely ruled out. The water can seep into the battery and cause corrosion of the internal components and condensation which can damage the electronics, this is not easy to verify (and you should never attempt to repair or disassemble battery packs under any circumstances) so in general if the pack is within specification it can be re-used after a water intrusion event.

2. Check the charging port fuses.

Follow this tutorial on how to find and remove the fuse (demonstrated on a mantis 8):
https://support.fluidfreeride.com/hc/en-us/articles/11692178903956
Figure 3 demonstrates a good and bad fuse, the upper fuse demonstrating a blown fuse as the filament has melted and broken the connection. There may also be black soot coating the glass. If the fuse is blown replace it with a compatible fuse (5A250V, 5x20mm, fast blow fuse).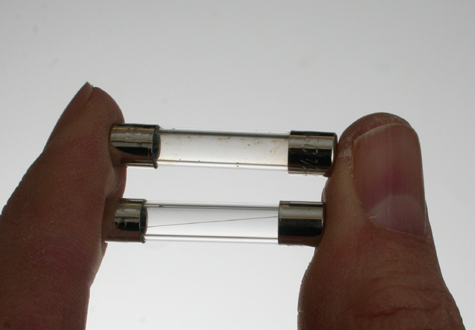 Fig. 3

You may have a ceramic fuse (figure 4) which would require a multimeter to test as you cannot see the broken filament. Please see our article here:
https://support.fluidfreeride.com/hc/en-us/articles/11702514987156

If you do not have a meter and are unsure, replacing the fuse with a compatible fuse is the best option (5A250V, 5x20mm, fast blow fuse)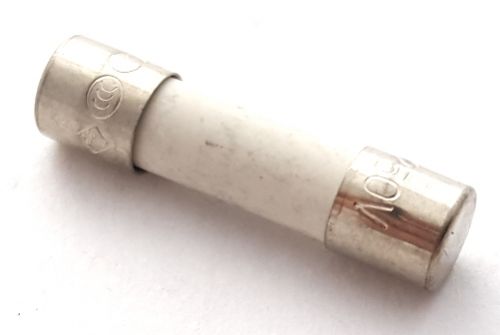 Fig. 4

Circle back to the previous charger tests after completing this step and see if it made any difference to the results, if not continue to more intensive steps.
3.Check your controller connections

Follow the steps in this article to double check your connections and ensure they are securely made and not damaged. We are simply doing a visual confirmation in this step and light probing by pressing in the connections securely. DO NOT UNPLUG THE BATTERY YET as the video instructs for that repair process while verifying the connections.

https://support.fluidfreeride.com/hc/en-us/articles/5436940210324

4. If your connections are proper and secure but the scooter still does not turn on, it would be time to check your battery voltage while it is not connected to any load. If you find that you have normal battery voltage DO NOT RECONNECT THE BATTERY YET, there is a high likelihood in this case that your controllers are shorted. If the battery were to be connected there is the potential for a larger than normal spark to occur as the voltage equalizes (A small spark/pop is normal and acceptable when reconnecting a battery to a controller). If your battery is outputting no voltage at all plug the charging port connectors back into the battery and plug in the charger, then unplug the charger and check the output connections of the battery again. If you now have voltage this is also a sign your controllers may be shorted and the BMS has kicked in to protect the pack. If you replace the controllers and find that the scooter suddenly shuts down with minimal load than it is high likely the battery pack is faulty (it is still ideal to replace the controllers first as they are much more affordable than the battery). If the voltage is out of range, then replacing the battery pack would be the best course of action. You can follow the instructions and find additional information here:

https://support.fluidfreeride.com/hc/en-us/articles/11709243320468

5. To get a solid confirmation that your controllers may be the culprit of the no-start condition; with the connections made and the battery still unplugged, press and hold the power button on the display for 5 seconds to discharge the controllers. You will the want to switch your multimeter into continuity mode (see figure 5) and see if there is continuity from negative to positive on the XT60 input connector. If your meter beeps or indicates continuity on either controller, then you have a definitive answer that your controller is shorted. Not every controller failure will present itself like this however and if you have ruled everything else out then this is the most likely cause.



fig 5.

6. If you have replaced your controllers and your battery checks out then the only remaining link would be to replace the main cable, you can do one final test by first unplugging the display and disconnecting the main display connection, then checking the continuity of the pin sockets on the quick disconnect for the display connector in relation to its connection down at the junction board (see figure 6 and 7).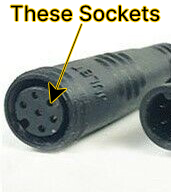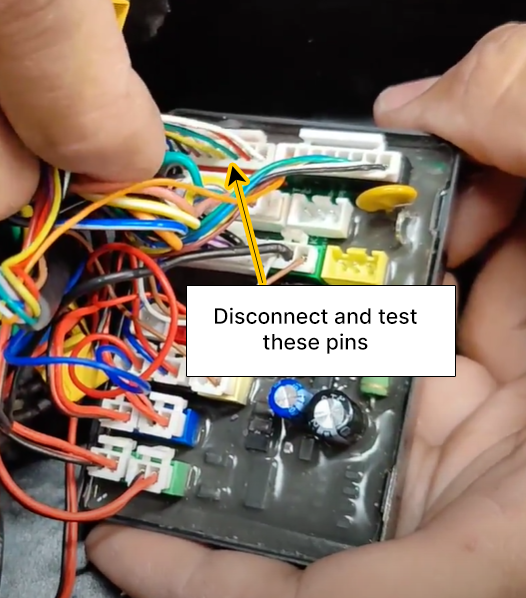 Fig. 6 Fig. 7



You will need very sharp points on your test lead or a very skinny pin or needle to be able to probe the quick disconnect sockets. You would want to work your way around the sockets on the quick disconnect; testing each pin on the junction board side below to verify connection. If you are missing any continuity on any one pin socket in the quick disconnect or have continuity with multiple pins below for one socket you will need to replace your main cable. See the instructions outlined in this article, the pertinent part is the first quarter of the video:

https://support.fluidfreeride.com/hc/en-us/articles/360051505791-Mantis-stem-replacement